Kiriyamaso Guest House
Kiriyamaso is a rentable self-catered lodge, which is a renovation of the teachers' lodgings of the former Nakanomata Elementary & Junior High School. The wallpaper in the rooms uses Japanese washi paper made in Niigata Prefecture, and the lodge has a warm atmosphere.
Enjoy spending a leisurely time in a traditional Japanese space, distinctive of the mountainside.
Living Room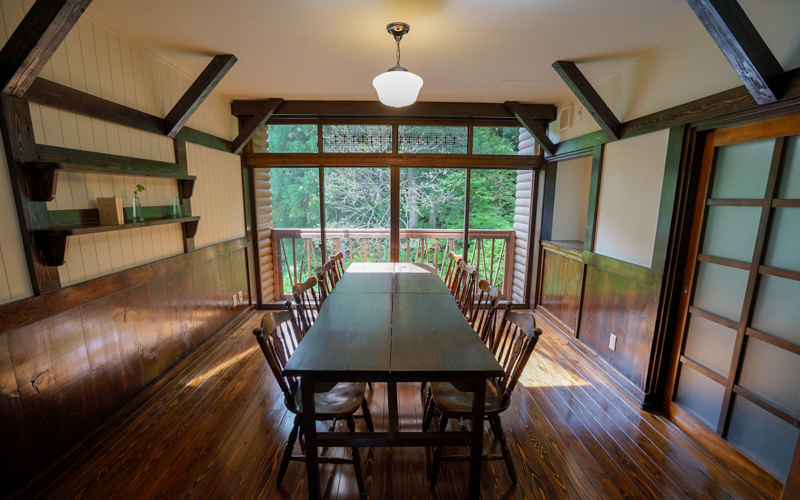 In this living room, with a dining table handmade from Japanese cedar, you can enjoy dining and chatting together while appreciating the greenery-filled scenery that fills the large windows.
Bedrooms (Japanese-style rooms)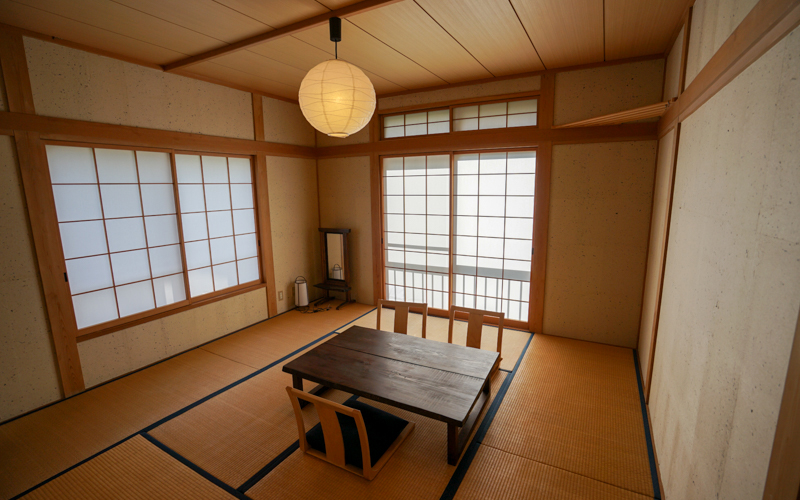 There are four bedrooms, each eight tatami mats in size. The bedrooms accommodate two to three people per room, so that a maximum of twelve guests can use the lodge. Each room contains a low table (heated kotatsu table in winter), a dresser, and futon mattresses. Please spend a relaxing time here while gazing at the nature of the four seasons and the Nakanomata River.
Kitchen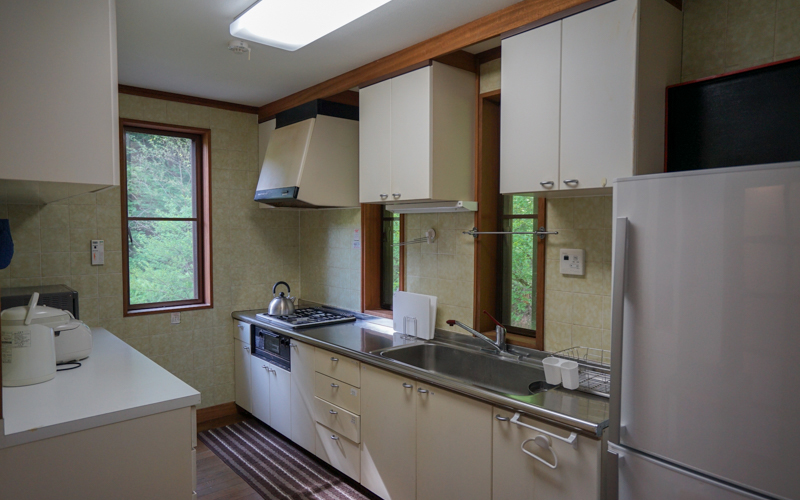 You can cook freely in the lodge's kitchen. There is a fridge-freezer, a rice cooker, a microwave, a toaster, cookware, and tableware. We only ask you to prepare the ingredients.
Baths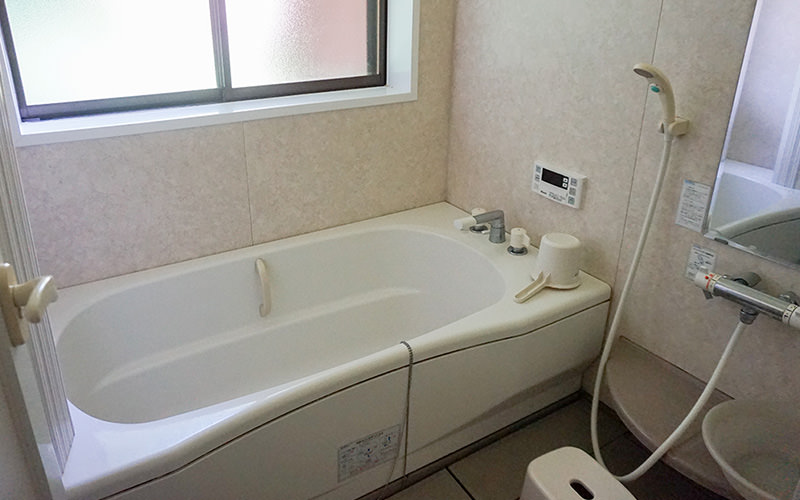 There are two baths. If you wish, you can enjoy bathing in a "mugwort bath" in summer, made with mugwort picked in Nakanomata.
◎Usage Fees (Rental of whole lodge, not including taxes)
| | Weekday Price per person | Holiday & Seasonal Price per person |
| --- | --- | --- |
| 1 person | 4,000 yen | 4,500 yen |
| 2 persons | 3,500 yen | 4,000 yen |
| 3,4 persons | 3,000 yen | 3,500 yen |
| 5~7 persons | 2,500 yen | 3,000 yen |
| 8+ persons | 20,000 yen (for all members) | 24,000 yen (for all members) |
Weekday Price per person
1 person
4,000 yen
2 persons
3,500 yen
3,4 persons
3,000 yen
5~7 persons
2,500 yen
8+ persons
20,000 yen
(for all members)
Holiday & Seasonal Price per person
1 person
4,500 yen
2 persons
4,000 yen
3,4 persons
3,500 yen
5~7 persons
3,000 yen
8+ persons
24,000 yen
(for all members)
A consecutive-stay discount of 10% will be applied from the third night of stay onwards.
In winter, heating fees of 500 yen per room will apply.
Children may stay free of charge if they do not use a separate futon. When a futon is used, the price is the same as for adults.
◎Equipment & Amenities
Shampoo, body soap, hairdryer
Fridge-freezer, rice cooker, microwave, toaster, cookware, tableware
Bedding (futon mattress & quilt, sheets, pillow cases)
Heaters (fan heaters)
Fans (no air-conditioning)
There is no Wi-Fi or television.
Cellphone signal available here is for docomo and au only.
Smoking is prohibited in all rooms in the lodge.
You can browse through photo albums and DVDs of Nakanomata. Please try to experience the mountainside lifestyle and scenery.
◎Things to Bring
Food (meals are not provided. We ask that you cook for yourself, preparing ingredients and seasonings etc. in advance)
There are no shops in the village. The closest shop is "Narus Takada Nishi Store", a major supermarket in the urban district of Takada City, which is around twenty minutes by car. We recommend that you purchase food before arriving in Nakanomata. In the village it is possible to buy locally-grown rice, miso, and seasonal vegetables; if you wish to purchase, please let us know when you make your reservation.
Bath towels, toothbrushes, pajamas and other personal items
In summer, insect repellant spray
In winter, rubber boots or snow boots
〈Reservations by Telephone〉
025-541-2602
(NPO Kamiechigo Yamazato Fun Club)
Available Hours: Weekdays 9:00~17:00